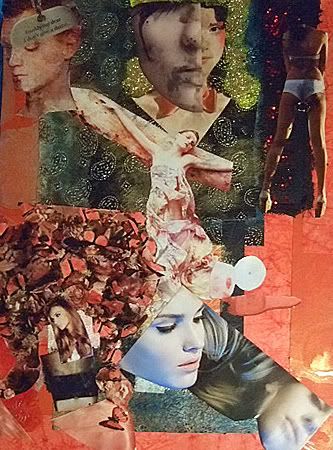 (Collage. 55 x 39 cm)
1200 kr
For
Illustration Friday
- "Impossibility".
I was inspired by the picture in middle, part of an ad in a woman's mag. Immediately I was struck of her being crucified, but without the blood, the suffering, and (ultimately) the sainthood. She was just being what was expected of her, beautiful and glamorous and sexy, even in pain. Adding that to all the pics of blank, beautiful women's faces and the more or less naked female bodies in magazines, not to mention the constant ringing of more or less threatening words in the ads (i.e.
If you want to slow down the aging process!
)... well, no wonder she was crucified!
Why do we crucify ourselves
Everyday I crucify myself
Nothing I do is good enough for you
Crucify myself
Everyday I crucify myself
And my heart is sick of being in chains
(
Tori Amos
, "Crucify",
Little Earthquakes
, 1992)